Due to the Covid-19 restrictions, we were unable to install the Master Elect (Bro David Trotter) in October 2020. But, in October 2021 David eventually became the 41st Master of Woodspring Lodge.
The 2021/22 Team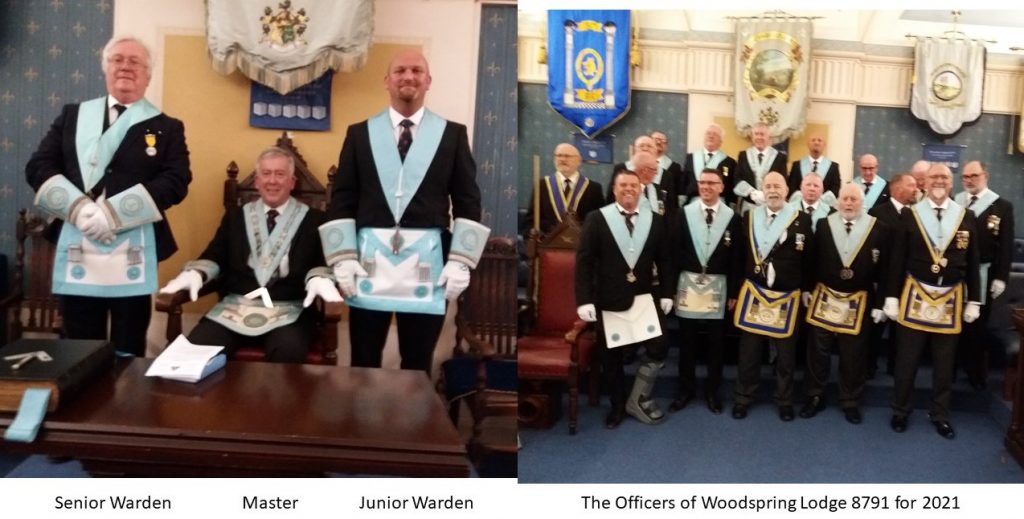 ---
Lodge Meetings
Held on the Friday after the 2nd Wednesday from October to May. We tile at 18:30, Installations at 17:30. The dates of our meetings for the 2021-22  season are :
October 15th 2021 : Installation of Bro David Trotter. 
November 2021 : 1st Degree ceremony (Rehearsal  Mon 1st)
December 10th 2021 : 2nd Degree Ceremony (Rehearsal  Mon 6th)
January 14th 2021 : No Ceremony – BURNS NIGHT, ladies to Dine. [Gordano Lodge to present the Travelling Trowel]
February 11th 2021 : 1st Degree Ceremony – Past Masters (Rehearsal  Mon 7th)
March 11th 2022 :  2nd Degree Ceremony (Rehearsal  Mon 6th)
April 8th 2022 :  3rd Degree ceremony (Rehearsal  Mon 4th)  [Date change : Good Friday = 15th April]
May 13th 2022 : 3rd Degree ceremony (Rehearsal  Weds 4th)  
October  2022 : Installation (17:30)  of Bro Geoffrey Mackett  (Rehearsal  Mon 4th)
---
SOCIAL CALENDAR
December 14th 2021  : Curry Night at Moguls, Clevedon.  We took over the whole restaurant, raised £100 for the Woodspring Charity Account.
January 14th 2022: No Ceremony – BURNS NIGHT, ladies to Dine.
February 26th 2022 : Ladies Festival, Walton Park Hotel, Clevedon. 
April 2nd 2022 : Fools & Horses  (Comedy night & Fine Dining) : at Yatton Masonic

Hall  

? May / June ? 2022 : A Thai Restaurant in Clevedon.
---
TRAVELLING TROWEL
This is a Somerset Provincial Grand Lodge idea to promote inter-lodge visiting.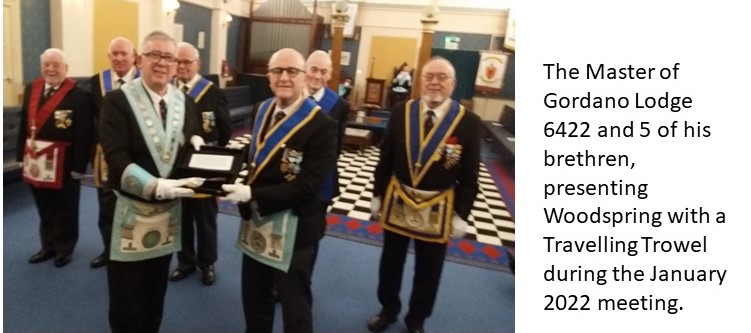 Woodspring presented this trowel to Backwell Lodge 7964 on Friday 18th February 2022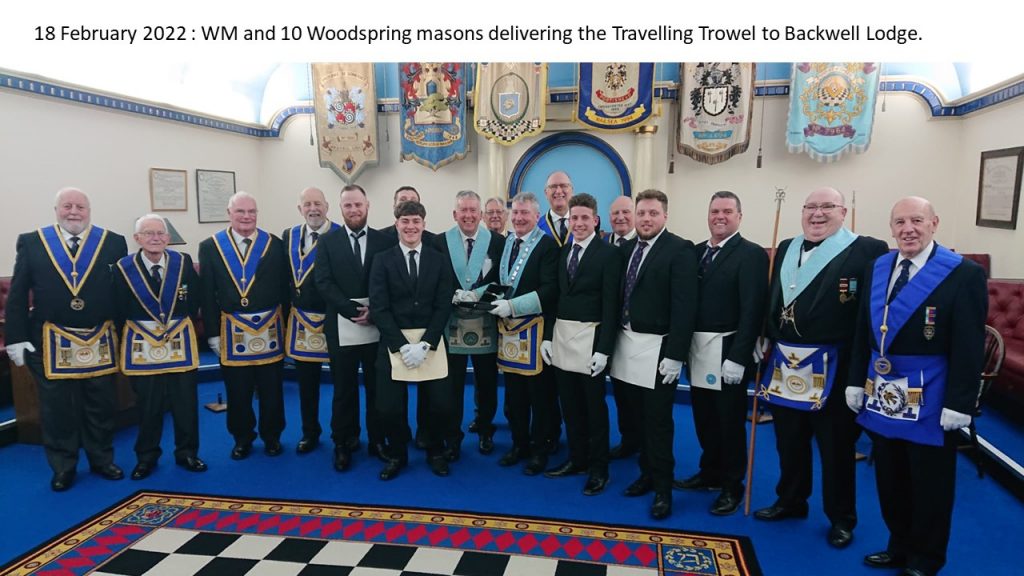 At the Provincial AGM (April 2022), Woodspring were given a travelling trowel and asked to present it to Silvanus Lodge, who are registered at the Yatton Temple.  Silvanus has a hunting and Fishing theme, meeting 4 times a year at various temples across the South West.  So on the Saturday 9th July 2022, the WM and ?? set out to the Masonic Hall, Wotton Under Edge for an 11:00 meeting.  
??picture and text?? to follow….
---
Proposed Fraternal and Formal Visits
Friday February 18th :  Delivery of the Travelling Trowel to BACKWELL Lodge in Nailsea  
Saturday July 9th:  Delivery of the Travelling Trowel to SILVANUS Lodge in Wootton-under-Edge 
---
Masters Charities :  £??? donated as follows :
£250 to West Leigh Infants School, Backwell. Towards an outside mud-free play area. 
£100 to Clevedon Community Gardeners.  A small group of Volunteers who look after public gardens around the sea front. 
£500 to Clevedon Park Run.  – encourages youngsters to participate in the Park Run. 
£.. to Local Dementia  Charity (details to follow).
£.. to our Woodspring Widows
£?.. to the North Somerset Widows Association.
---
Previous Masters Charities  Donations made during 2022/23:  
Due to Covid restrictions we were unable to make our presentations in a timely manner.  As restrictions eased we were able to complete the  following :
£1350 to Motor Neuron Disease Association. 
A bench, costing £250, to the Frankie Howerd Trust at Loxton
---
WM David Trotter Charities :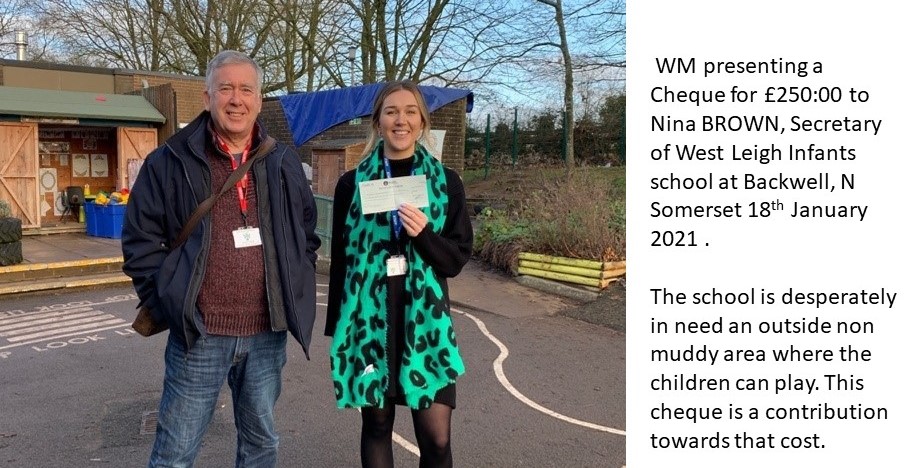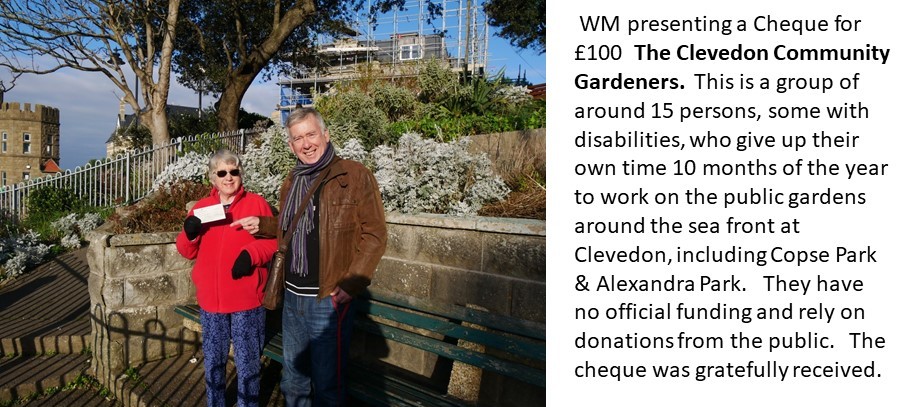 WM Arnie Webber (2019/20) Charities :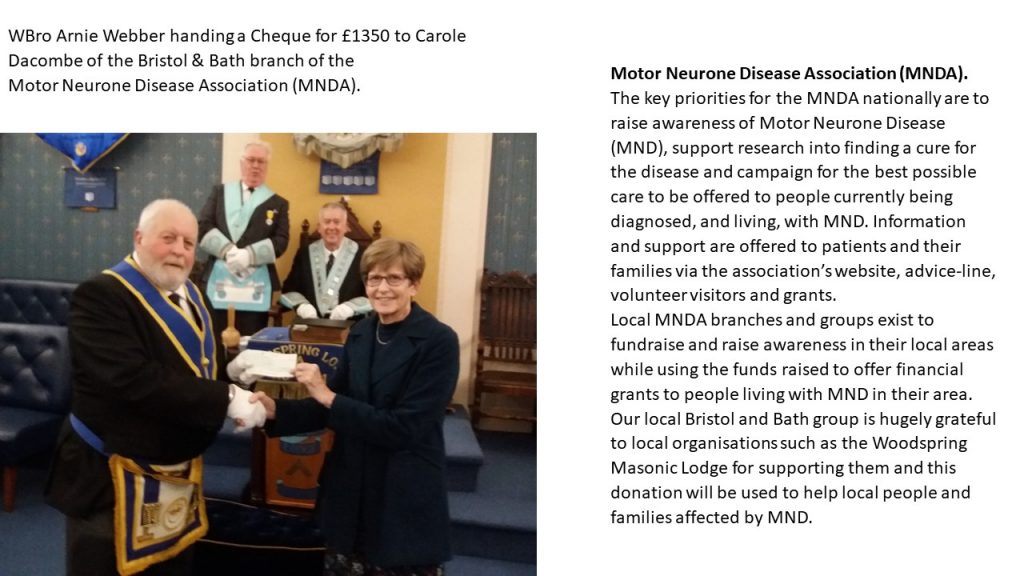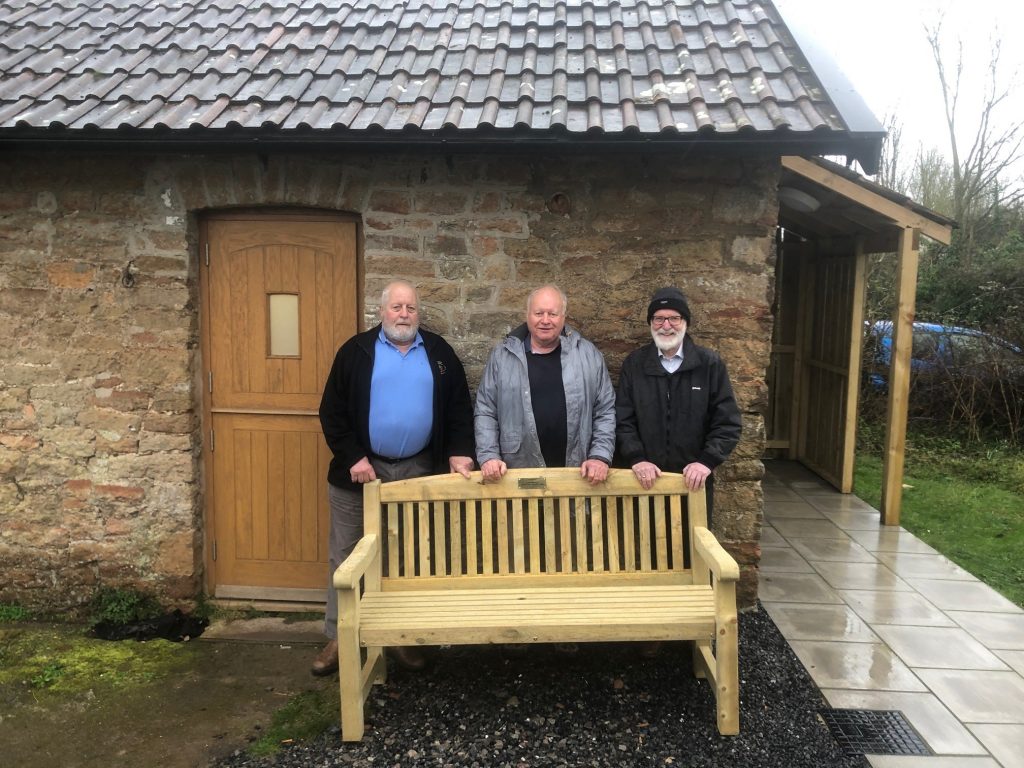 Arnie Webber presenting the seat to the Frankie Howerd Trust, at their Community cafe at Loxton, Somerset. It is located at the foot of the Mendips between Axbridge and  Bleadon.   
https://frankiehowerdhubandcafe.weebly.com
.
.
.
.
.
.
.
.
---
Yatton Remembrance Sunday 14th November 2021
On Remembrance Sunday 2021, there was a march to the Yatton memorial garden by various local organisations, with a wreath laying ceremony. This includes wreaths from the Lodges of Woodspring and Agriculture